Departments and laboratories
Institute
of Non-Ferrous Metals
Division in Poznań
Central Laboratory
of Batteries and Cells
Institute
of Non-Ferrous Metals
Division in Poznań
Central Laboratory
of Batteries and Cells
tel.: +48 61 27 97 800
fax: +48 61 27 97 897
e-mail: claio@claio.poznan.pl
Department of Industrial Electrochemistry
Profile

Services

Equipment

Contact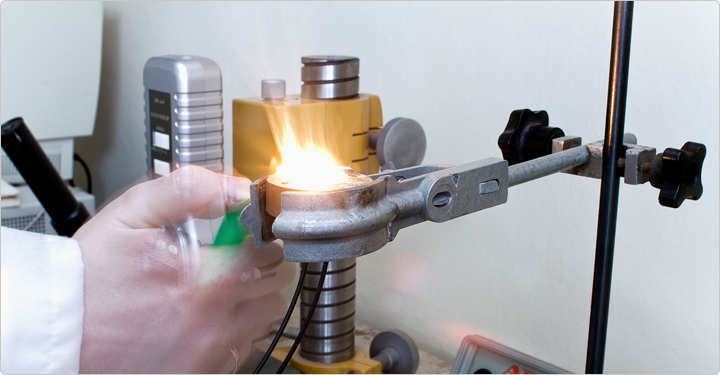 Teh Department of Industrial Electrochemistry is focused on initiation, performance and coordination of R&D works in the field of primary and secondary energy storage systems, especially lead-acid batteries and reserve batteries.
The Department designs, deploys models and prototypes of new batteries and cells, develops and modernizes technologies of product manufacture and collects data on military materials as well as controls licensed activities.
What is more, the researchers carry out the following research:
Analysis of raw materials ,
Analysis of materials,
Analysis of components,
Analysis of technology of energy storage,
Electrical testing,
Analysis during dismantling of batteries,
Examination and assessment of energy storage for facilities from the energy industry.
The Department performs and coordinates handover testing, periodical examinations and research on type of thermal battery.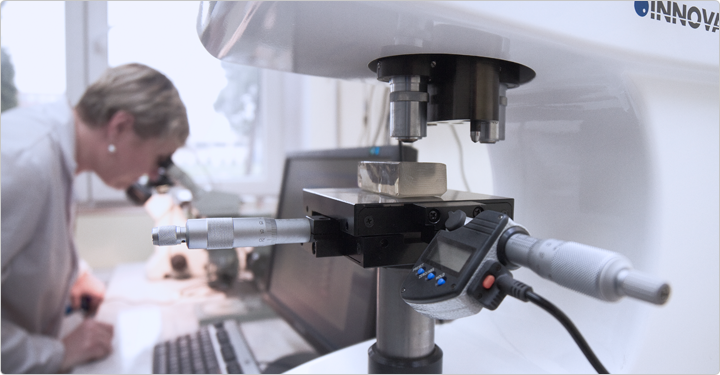 The Department of Industrial Electrochemistry offers the following services:
Analysis of the construction of batteries and cells along with assessment of state of components;
Analyses and expert opinions on technology and materials used in reserve batteries;
Electric tests of reserve batteries (stationary tests and during exposure);
Analysis of reserve batteries (thermal and ampule batteries) during dismantling;
Electrochemical study on corrosive resistance of grids;
Micro- and macroscopic assessment of cell components;
AC/DC Electrochemical examination of electrode materials and cells using many technics, including also :

Linear and cyclic voltammetry
Electrochemical Impedance Spectroscopy
Potentiometry

Design of new or modernized thermal batteries;
Development of technnical documentation for new and modernized thermal batteries;
Preparation of prototypes and models of thermal battery.
The Department offers also training courses as well as its know-how in the field if design, operation, use and exploitation of lead-acid batteries.
Stress chamber with microprocessor control ANGELANTONI INDUSTRIE s.p.a. type CST 27 2T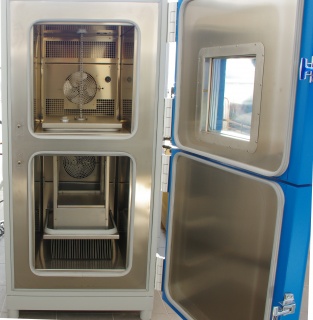 This equipment allows to perform thermal stress tests in the temperature range from -60 to +200 °C on objects with dimensions less than 23cm × 24cm × 27cm (LxWxH) and lighter than 20kg.
Calorimeter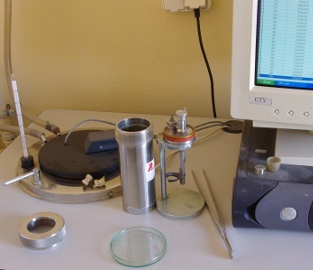 Calorimeter of type KL-12 Mn produced by Precyzja-Bit.
Burning speed tester
Burning speed tester of type TPS2.  The measurement accuracy is 0,001s and 0,0001 m/s.
Ignition vulnerability tester PMEZ-1.0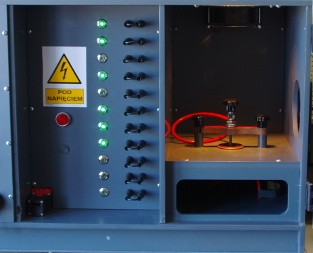 The test performed with this equipment consists in ignition attempts of the given material using generated electrical sparks of defined energy. The measurement ranges are from 0,01 to 6,41J, test accuracy 0,01J and from od 8,0kV to 12kV, test accuracy 0,2kV.
Ball mill of Pulverisette 6 type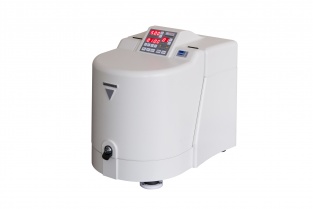 Rotation speed range: 600 spins/min. The shells and milling balls are made from ZrO2, stainless steel and tungsten carbide.
Glove boxes system with argon atmosphere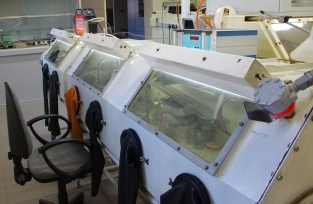 The system of glove boxes with argon atmosphere enable operation with materials susceptible to the air. The system includes a hydraulical press wih maximal pressure of 100 tons.
Tube furnace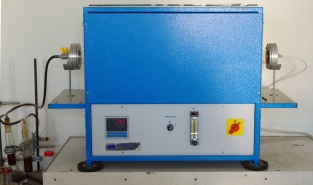 The gas tube furnace serves to sinter material in argon or Ar+H2 atmosphere. The temperature range is up to 900 °C.
Potentiostats/galvanostats with possibility of impedance testing (Voltalab, Autolab, Bio-logic)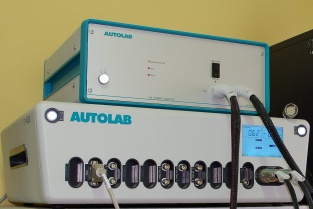 The devices enable direct and alternating-current tests of batteries and cells in the ranges:
change in potential up to 50V,
change in current up to 20/150 A,
max power 2kW
Moreover, the devices allows for measurements of impedance in the range of 10 µHz – 7 MHz.
Multichannel galvanostat Bitrode SCN
The device allows for electric cycling tests of battery cells and their elements. The cells having two – or three-electrode systems (with a reference elekctrode) are tested in the ranges:
charge/discharge voltage ± 5V,
electric current up to 5A.
The device possess 20 measuring circuits.
Microprocessor-cotrolled climate chamber ANGELANTONI INDUSTRIE s.p.a. Sunrise SU 340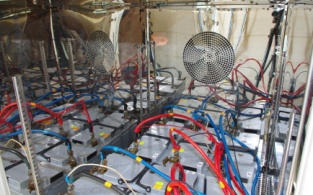 Measurement temperature range: -40/+180oC;
Measurement humidity range: 10 – 98%;
Capacity: ca. 336 l.
Metallographic analysis system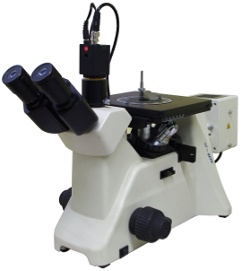 Metallographic analysis system includes:
Polisher Planopol – V
Reversed metallographic microscope IN-MM600: magnification up to 1250x and stereoscopic microscope – magnification up to 40 times. the microscope is equiped with a digital camera.
Hardness microtester Nexus 423A: load 0,01-2 kg.
Corrosion tests system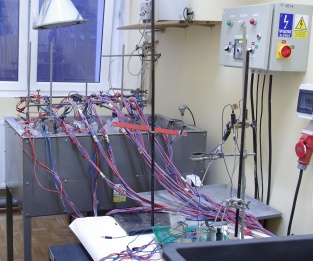 The corrosion tests system consists of a batch equipped with:
a heating tool;
a control pannel and;
a liquid removing tube.
The system enables performing boosted corrosive tests of grids, cells and batteries.
System for battery construction analysis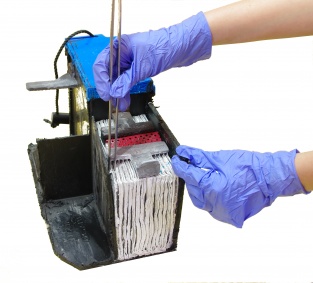 System for battery construction analysis is used for study battery and cell components and includes:
horizontal track;
table for disassembly;
oscillation device.
Electric test equipment for reserve batteries and cells.
The device has 4 uniform testing channels to operate collaterally and independently in the range of 0 to 50 V and 0 to 20 A. The battery load could be either of resistance or current nature. The device enable free setup of discharge algorithms in the allowed current-voltage range.
Electric test equipment for reserve and thermal batteries while spinning
The device has 3 uniform testing channels to operate collaterally and independently in the range of 0 to 70 V and 0 to 20 A. The battery load could be either of resistance or current nature. The spinning range is from -100 spins/s to 100 spins/s, maximal spinning acceleration is 70 spins/s2.  The device enable free setup of discharge algorithms and spin rates in the allowed ranges.
Equipment for surveilled formation process
Equipment for surveilled formation process consists of:
a 8-channel, computer-controlled device equipped with temperature sondes for charging/discharging electrochemical systems
pH-meter with data archiving mode
The device enables cycle tests of single 2V cells or batteries of nominal voltage 12V at current intensity in the range up to 15A or 30A. Moreover, the device measures the temperature of the tested battery in each unit. This feature allows to set up a cut-off temperature degree, which pause the test when the temperature is too high.
The device measures pH, redox potential, specific conductance and resistance.
Equipment for active material preparation
Equipment for active material preparation consists of:
a laboratory blender with a cooling device
a rollingmill with press controll
a laboratory furnace
a moisture analyzer
Institute
of Non-Ferrous Metals
Division in Poznań
Central Laboratory
of Batteries and Cells
Institute
of Non-Ferrous Metals
Division in Poznań
Central Laboratory
of Batteries and Cells
tel.: +48 61 27 97 800
fax: +48 61 27 97 897
e-mail: claio@claio.poznan.pl