Departments and laboratories
Łukasiewicz Research Centre - Institute of Non-Ferrous Metals Division in Poznań
Central Laboratory of Batteries and Cells
Łukasiewicz Research Centre - Institute of Non-Ferrous Metals Division in Poznań
Central Laboratory of Batteries and Cells
tel.: +48 61 27 97 800
fax: +48 61 27 97 897
e-mail: claio@claio.poznan.pl
Department of Certification
Profile

Certification procedure

Download

Contact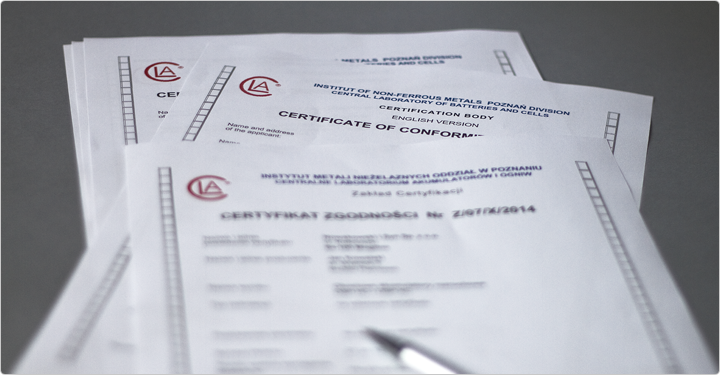 The scope of work done by the Department of Certification:
Issuing of certificates attesting conformity of energy storage devices with national or international norms as well as other normative documents.
Audit or control of technical and organisational conditions for stable production or import done in the Client's place.
Internal or external audits.
Management control.
Normalization services.
Assessment of norms and other documents.
Assessment of system documentation.
The Certification Department makes, with due care and independence, certification of chemical power sources according to our Quality Policy.
All clients have acces to our services.
All information required for the certification process is keeped confidential, except where otherwise specifically stated in Polish regulations.
Certification of goods it is a statement of conformity with national and international norms, treated as reference documents. The certification proces is performed in accordance to Chemical Power Sources Certification Program – assessment of conformity and Annexe to the mentioned Program.
The Certification Procedure covers:
1. Request for product certification.
The applicant (manufacturer or importer) whishing to obtain the certification for the product (or group of products)  fills the application form CF-03-01 and other documents mentioned in the application form, among others:

Declaration of Conformity;
CF-03-02 Manufacturer Questionnaire
or
CF-03-03 Importer Questionnaire;
CF-07-01 Sample Protocole

as well as the repport made by an acredited in this domain testing laboratory concerning the conformity of the product with a reference document.
2.     Assessment of the supplier management system.
3.     Assessment of the product documentation and tests results.
Within the certification process the product documentation, tests results and supplier management system are assessed, accordingly to the certification programme.
4.     Decision in the certification process.
5.     Issuing a certificate after:
a positive result of certification process assessment;
signing a supervision contract with the applicant;
paying a fee for the certification procedure, according to the delivered invoice.
The certificate is issued only for products originally submitted to tests and certification.
All details concerning:
appeals, complaints disputes;
fees;
extensions or restrictions of certification range;
extension of the certificate validity, assignment of proprietary rights;
suspension of the certificate validity;
certificate cancellation,
are described in the guide "Rules for Product Certification".
Łukasiewicz Research Centre - Institute of Non-Ferrous Metals Division in Poznań
Central Laboratory of Batteries and Cells
Łukasiewicz Research Centre - Institute of Non-Ferrous Metals Division in Poznań
Central Laboratory of Batteries and Cells
tel.: +48 61 27 97 800
fax: +48 61 27 97 897
e-mail: claio@claio.poznan.pl