Łukasiewicz Research Network - Institute of Non-Ferrous Metals
(former Central Laboratory of Batteries and Cells)
Łukasiewicz Research Network - Institute of Non-Ferrous Metals
(former Central Laboratory of Batteries and Cells)
tel.: +48 61 27 97 800
fax: +48 61 27 97 897
e-mail: claio@claio.poznan.pl
Our activity
ŁUKASIEWICZ Research Network - Institute of Non-Ferrous Metals Division in Poznań (former Central Laboratory of Batteries and Cells) is a highly specialized organization with over 70 years of experience in R&D and application works in the field of chemical power sources.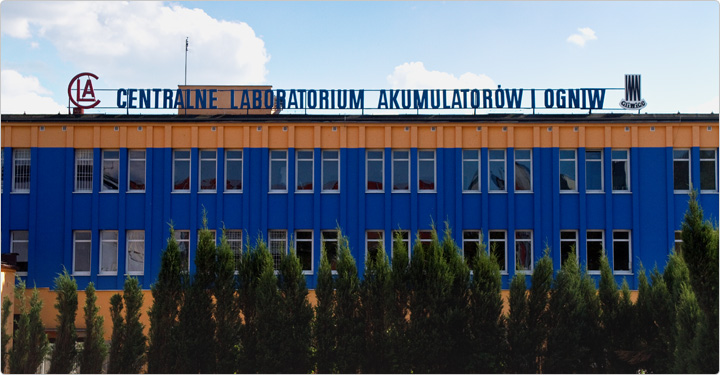 Our activity is mainly focused on:
lead-acid batteries,
lithium-ion and lithium-polymer batteries,
alkaline batteries,
special batteries,
fuel cells,
electrochemical condensators,
manufacture technologies,
new materials and new power sources.
Moreover, we conduct research on environmental protection against harmful substances from waste chemical power sources.
Łukasiewicz - IMN in Poznań is the sole Polish manufacturer of alkaline batteries applied to aircraft and helicopters, special batteries and reserve batteries.
The experienced and competent researchers at Łukasiewicz - IMN in Poznań participate actively in research, scientific and R&D projects, both at national and international levels. We propose training and consulting services in the field of construction, operation and exploitation of power sources and we help to deploy new or modernized products along with the technology of their production. The Institute offers its know-how to develop technical documentation of technological processes in the industry of chemical power sources.
Advanced equipment and specialized measuring apparatus combined with scientific knowledge of our experts allow to conduct physicochemical studies of materials and raw materials as well as electrochemical and electric studies of batteries and cells.
Our Chemical Power Sources Testing Laboratory is accredited by Polish Centre of Accreditation and provides electrical, mechanical climatic and safety (exploitation and transport) tests of all types of batteries.

Łukasiewicz Research Network - Institute of Non-Ferrous Metals
(former Central Laboratory of Batteries and Cells)
Łukasiewicz Research Network - Institute of Non-Ferrous Metals
(former Central Laboratory of Batteries and Cells)
tel.: +48 61 27 97 800
fax: +48 61 27 97 897
e-mail: claio@claio.poznan.pl