Departments and laboratories
Institute
of Non-Ferrous Metals
Division in Poznań
Central Laboratory
of Batteries and Cells
Institute
of Non-Ferrous Metals
Division in Poznań
Central Laboratory
of Batteries and Cells
tel.: +48 61 27 97 800
fax: +48 61 27 97 897
e-mail: claio@claio.poznan.pl
Energy Storage Testing Laboratory
Profile

Services

Equipment

Kontakt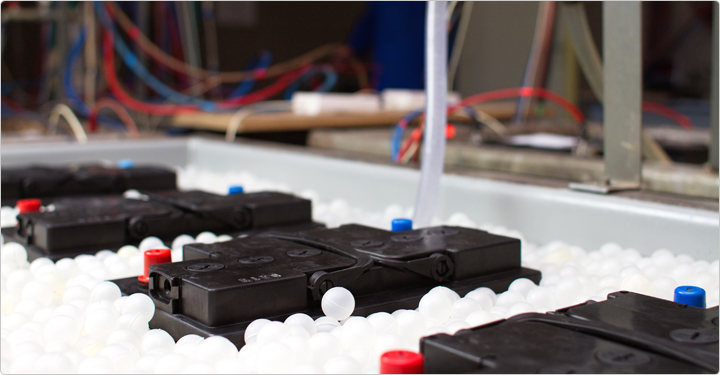 The Laboratory provides electrical, mechanical, climatic and safety (included handling and transport) test all types of batteries and cells.
The scope of work at the Laboratory:
Examination of electrical, mechanical and klimatic parameters as well as parameters concerning safety of transport or use of all types of batteries.
Development, assessment and deployment of new testing methods and measuring and control systems.
Cooperation with Polish Centre for Accreditation, respect of rules for laboratory accrediation.
To guarantee high quality of its competences and tests Laboratory has deployed quality management system according to PN-EN ISO/IEC 17025. Since 1997 our facility has been acting as an accredited research unit. Moreover, the Laboratory has Accreditation Certificate no AB 124 issued by Polish Centre for Accreditation (PCA).
To download (in Polish only):
Temperature bath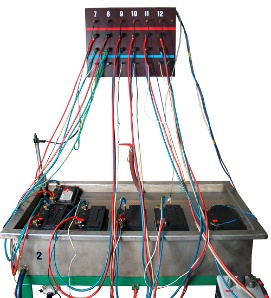 570 mm x 1200 mm
Max. temperature: 75°C
Digatron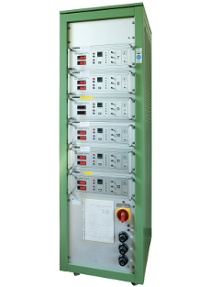 Digatron UBT 50-12-6
• Imax  = 50 A; Umax = 12V
Digatron UBT 100-12-3
• Imax  = 100 A; Umax = 12V
Digatron UBT 200-09-2S
• Imax  = 60A; Umax = 9V
• Imax  = 200A; Umax = 9V
Digatron UBT 100-18-4
• Imax  = 100A; Umax = 18V
Digatron HEW 1500-6
• Imax  = 1500A; Umax = 12V
Digatron HEW 2000-12 ME
• Imax  = 2000A; Umax = 15V
Digatron IBTR 800-36S
• Imax  = 800A; Umax = 36V
Digatron IBTR 1500/400
• Imax discharge = 1500A  /  30V ÷ 10V
• Imax charge = 400A  /  10V ÷ 36V
Digatron SBT 5-15-2
• Imax  = 5A; U nominal = 15V
Digatron SBT 5-20-2
• Imax  = 5A; Umax = 20V
Digatron SBT 5-5-3
• Imax  = 5A; Umax = 5V
Digatron MCT 5-16-32
• Imax  = 5A; Umax = 16V
Digatron BNT 50-100-3
• Imax  = 50A; Umax = 100V
Digatron BNT 50-100-3
• Imax  = 50A; Umax = 100V
Resistance analyser HIOKI 3554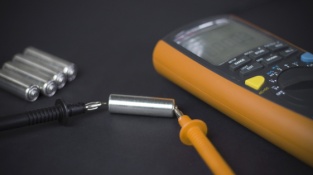 Four ranges of internal resistance measurement: 3,000m/30,00/300,0/3,000 Ω
Measurement frequency: 1 kHz ±30 Hz
Vibration system Tira TV 56280/LS-180
Vibration system Tira
TV 56280/LS-180
Force for process sinus max: 8000 N
Force for process random max: 8000 N
Force for stresses: 16 000 N
Frequency range: DC – 3000Hz
Vacuum climate chamber UD 150 C
Temperature range -70/+100°C
Pressure up to 1 mbar
Temperature chamber
Temperature range
– 80°C  ÷  +180°C
Climate chamber
– 70°C  ÷  + 180°C
Humidity up to 98%
The laboratory offers the following services
Parameters testing for all types of energy storage, according to national and international regulations as well as Client's testing programmes or other documents.
Handover testing of special products
The Laboratory conducts the following tests:
scope of accreditation
capacity (discharge)
charge acceptance
cold cranking aptitude CCA to 2000A
charge retention
cycle life
water use
high-rate discharge
qualification as emergency power
short circuit current and internal resistance
max. voltage of discharge current
charge acceptance after deep discharge
corrosion resistance
overcharge
short circuits
tests in elevated/lowered temperature conditions
thermal stresses
temperature cycling
tests in elevated/lowered pressure conditions
resistance to elevated humidity
sine vibrations and random
mechanical shocks
The Laboratory performs tests according to :
transport standard UN 38.3
PN-EN 50342
PN-EN 60086-1 PN-EN 60086-2
PN-EN 62133
PN-EN 60896-11
and other norms, directives or manufacturer's specifications
Institute
of Non-Ferrous Metals
Division in Poznań
Central Laboratory
of Batteries and Cells
Institute
of Non-Ferrous Metals
Division in Poznań
Central Laboratory
of Batteries and Cells
tel.: +48 61 27 97 800
fax: +48 61 27 97 897
e-mail: claio@claio.poznan.pl