Łukasiewicz Research Network - Institute of Non-Ferrous Metals
(former Central Laboratory of Batteries and Cells)
Łukasiewicz Research Network - Institute of Non-Ferrous Metals
(former Central Laboratory of Batteries and Cells)
tel.: +48 61 27 97 800
fax: +48 61 27 97 897
e-mail: claio@claio.poznan.pl
Our batteries operated into outer space!
22.07.2014
In the archives of IMN CLAiO we have found a proof that our batteries are reliable in various conditions. It is a letter of acknowledgement from general brigadier Mirosław Hermaszewski, the first and, so far, the sole Pole who had been in outer space.
During the space voyage in '70, our batteries powered Hermaszewski's watch and operated perfectly even in zero gravity conditions.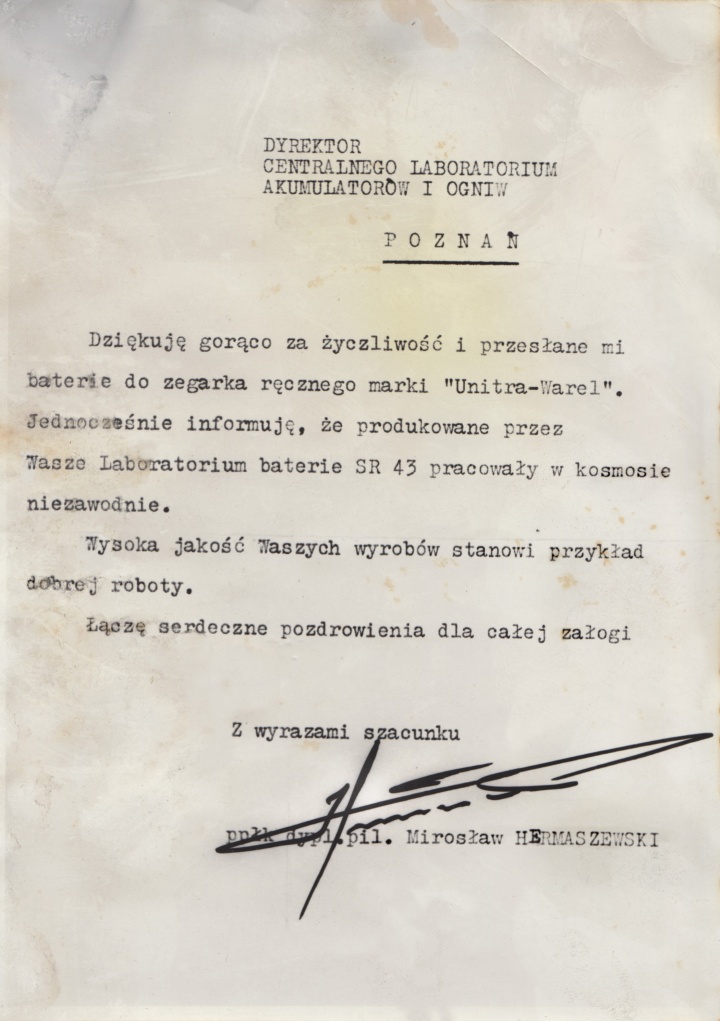 Łukasiewicz Research Network - Institute of Non-Ferrous Metals
(former Central Laboratory of Batteries and Cells)
Łukasiewicz Research Network - Institute of Non-Ferrous Metals
(former Central Laboratory of Batteries and Cells)
tel.: +48 61 27 97 800
fax: +48 61 27 97 897
e-mail: claio@claio.poznan.pl